How to Strengthen Your Brand Through Online Reputation Management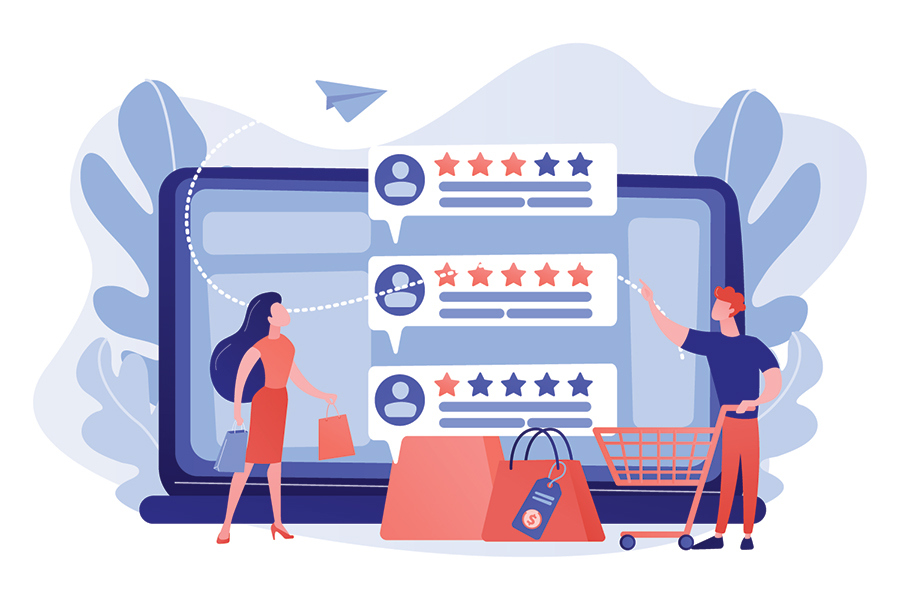 ORM requires addressing negative online content while creating and elevating positive internet messaging and branding – and certain services can help.
In small business affairs, reputation is everything. You know this from your own spending habits – do you really want to get food from the restaurant on your corner even if it has terrible reviews?
As a small business owner, you should work to prevent potential and current customers from ever having to ask such questions when they encounter your website, social media, reviews and other online content. That's where online reputation management (ORM) and third-party ORM providers – Webimax is our top pick in this field – come in. Learn more below.
What is online reputation management (ORM)?
Online reputation management (ORM) encompasses all actions that a small business takes to address negative online content while creating and elevating positive internet messaging and branding. ORM often includes social media and blog content creation, marketing and SEO alongside efforts to claim your company's blank profiles on web listing sites. It also involves asking customers for reviews to enhance your positive online presence.
Editor's note: Looking for the right [category name] for your business? Fill out the below questionnaire to have our vendor partners contact you about your needs.
ORM can also involve permanently removing negative content and appropriately responding to negative reviews. Although negative reviews should never be deleted, other negative content can ethically be eliminated (or at least buried in search engine result pages) as you create and elevate new, positive content. The result is a stronger online brand across the board.
Small businesses often outsource their ORM to a third-party firm, which handles all of the above tasks on your behalf. Some ORMs specialize in managing an individual's reputation, whereas others work more closely with small businesses like yours. Other ORMs can work with either type of client – you'll know they're trustworthy if they pair you with a communicative project manager who knows your field.
Notably, ORM is not the same as public relations (PR), though some ORMs do offer PR. While the two both share the common goal of creating a positive appearance for your company, PR focuses more on earning you media coverage. As such, it's built more strongly on a foundation of journalist and influencer relationships. ORMs have a broader focus than just media and don't need as many (if any) influencer relationships to handle their tasks.
What types of businesses is ORM best for?
ORM is valuable for any and all types of businesses, though negative information typically has less of an impact on larger, more established companies. That's because these companies have enough customers – especially longtime, loyal ones – that negative content generally results in less potential revenue loss. Small-to-midsize businesses (SMBs), on the other hand, stand to lose far more money when negative content dominates internet searches.
For starters, most SMBs don't have nearly as strong a footing in their industries or regions as do their household-name competitors. As such, negative content about an SMB gives potential customers another reason to choose a competitor instead. SMBs also have less revenue, staff, and thus time and resources to handle ORM in-house, making professional assistance all the more important.
Why do ORM and branding matter for SMBs?
Good ORM practices bolster your SEO and thus rank you higher on search engine result pages, thereby introducing your company to more leads. It also makes your brand appear stronger on online review listing sites such as Yelp and Google, where 94% of customers avoid companies with negative reviews.
Additionally, 85% of customers research companies online before making purchasing decisions. ORM can help place primarily, if not entirely, positive content about your business in front of these customers. That's because ORM focuses on more than just reviews – your social media and SEO are part of the picture, too. And since customers nowadays regard other customers' reviews more highly than companies' original content, ORM is hugely important.
What are some common ORM and branding strategies?
Among the most trusted methods that you or an ORM you hire should use to manage your online reputation include the following:
Social media monitoring. Anybody can say anything on social media, so Facebook and the like have become spaces where customers often express their truest opinions about businesses. This doesn't just mean Facebook reviews – it means Instagram posts praising your products or nasty tweets about your brand.


Responding to online reviews. When a small business responds to a positive customer review with gratitude and potentially future discounts, other customers view the brand as trustworthy and agreeable. So, too, does a kind and understanding response to a negative review that shows eagerness to solve the customer's problem. And, yes, you absolutely should respond to all your online reviews.


Asking for additional reviews. Presumably, your company is pleasing its customers – if you weren't, you might be on the verge of failure. To highlight your successes, ask your customers for reviews. It's possible you'll get some negative reviews, but most should be positive – and as described above, you can leverage negative reviews to your advantage, too.


SEO. Unfortunately, not all negative content about your company can be erased from the internet, but SEO can help to bury it far below positive content. Beyond that, SEO puts your company in front of more potential customers earlier in their internet searches, thus legitimizing your brand.


Content creation and marketing. The meaningful, targeted blogs fundamental to content marketing go hand in hand with SEO and improving your reputation. These blogs, for which you should choose topics based on relevant high-volume search terms, can be tailored to rank more highly in search engine page results. The outcome is more exposure and an appearance of authoritativeness that enhances your reputation.


Profile claiming. Isn't it frustrating when you search for a business on your favorite listing site only to see a blank profile? When you've encountered this, you've likely turned to a competitor instead. Don't let this happen to your business – claim your blank profiles through ORM and form a comprehensive, far-reaching internet presence.


Public relations. As mentioned earlier, some ORMs include PR in their suite of services. However, it's more common to hire a PR firm and a separate ORM firm given each's goals and relationships as described above.
Should growing businesses hire ORM and branding professionals?
If all the above sounds like a lot of work for a small team like yours, that's a fair concern – and ORMs can help. When you outsource your SEO, content marketing, social media monitoring, review handling and profile claiming, you regain invaluable time – which is perhaps the most important small business resource of all.
Outsourcing your ORM and branding is also a major stress reliever. Surely, you have tons of other tasks to tend to, and finding and reading negative content about your brand takes time and may feel like a personal attack. As such, you may find yourself feeling defensive or angry and less focused on your work. Letting a third party handle your ORM thus gives you the clarity you need to successfully handle all your business affairs.
What to look for when hiring ORM and branding professionals
As you pursue ORM and branding partners, you should look for plan flexibility, personalized reputation management, thorough support and more. Options on this front include Webimax, known for its low-obligation month-to-month plans, live chat support and full-service management. Webimax also includes crisis management services – which not all ORMs offer – to help your business after PR so negative it could drastically reduce your customer base.
There are also certain things you should make sure your ORM isn't doing. These include:
Charging extra fees. Most ORM plans offer custom plans and prices instead of flat, inflexible fees. This structure can be advantageous, since it allows you to scan your quote or contract for unnecessary charges. Your ORM should only charge you for ORM and the associated services mentioned above – other fees indicate a company that's more in it for the money than your well-being.


Operating with no transparency. Although negative customer reviews should never be deleted, some ORMs may still do so. However, these ORMs are unlikely to admit to this – and they can only get away with it if they lack transparency. To counter this, demand thorough, regular communications and reports from your ORM. Ideally, your ORM will also pair you with a project manager who's readily available for all your questions.


Engaging in black hat tactics. Black hat tactics encompass all illegal or unethical forms of ORM. They include fake reviews, duplicate web pages or social media profiles, SEO keyword stuffing, spam content and targeted attacks on negative content. Our sister site Business News Daily has an extensive primer on why black hat tactics are problematic.
As you look for ORMs that check all these boxes, you can refer to our ORM reviews page. You'll see there that Webimax is our No. 1 choice for small business ORM given its month-to-month contracts, one-on-one guidance, thorough support and extensive suite of services. Learn more via Webimax's website, then get ready to meaningfully manage – no, elevate – your online brand.
Abstract vector created by vectorjuice - www.freepik.com