Why Your Branded Search Results Are Your Most Important Digital Asset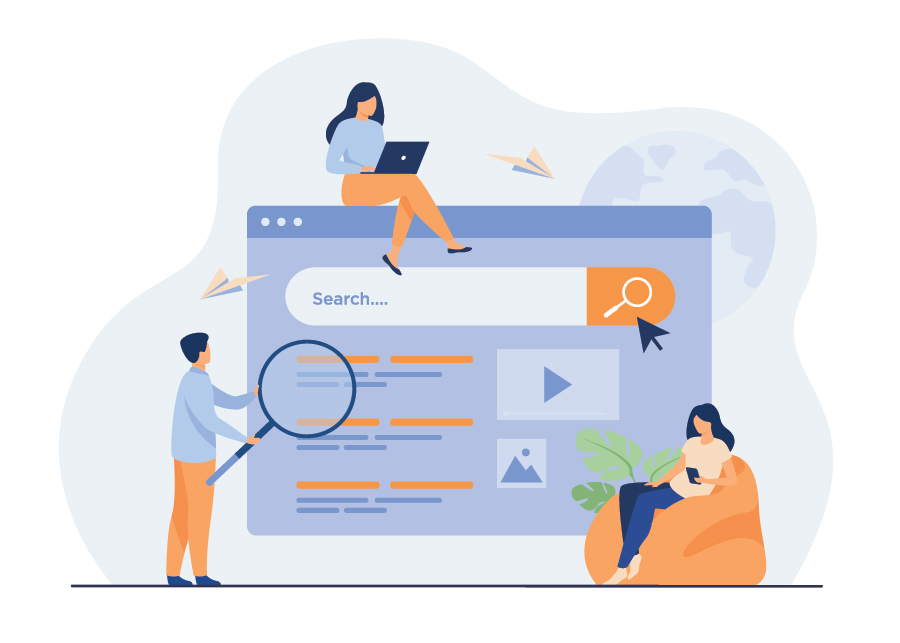 A business's online image extends far beyond the content it publishes on its website. As your business grows and more people hear about your products and services, the more often other people on the internet will publish content that mentions your brand name.
From third-party review sites to social media posts, to blogs and news articles, there are many digital locations where your business's reputation can be harmed. But of all the digital locations, the most important is what shows up on the first page of Google for your branded searches.
Why your branded search results are your most important digital asset
1. People go to Google first when they research brands and products
Studies show that 81% of all consumers conduct research before making an online purchase. And because Google owns 92% of the search engine market share, the majority of that research starts with Google.
Unlike social media or news websites, people go to search engines when they have high search intent and are looking for a specific answer or piece of information. For most businesses, the customer journey doesn't begin once consumers arrive at your website, but with everything they might find on that first page of the SERPs before they even click.
If you don't know what's showing up on the first page of the SERPs when people type in your brand name, then you might be allowing other publishers to shape your online reputation.
2. Negative content showing up on page 1 will cost your business customers
Would you pursue a strategic partnership with someone who had a bunch of negative articles showing up about them on the first page of search results? Probably not. So it should be no surprise that negative content ranking higher up in branded searches can cost you potential customers.
Just a single negative review can have enough of an impact, but the losses continue to compound from there. Three negative search results can lose you nearly 60% of customers who are researching your brand.
The truth is, negative content has more impact on the customer journey than positive feedback, but if your SERPs are clean, customers will feel more confident in making a purchase decision.
3. High domain authority sites easily rank on page 1
Sites with high Domain Authority (DA) are much more likely to rank in search engines. That's because site authority is a signal to Google of how well a website is trusted by others on the internet.
Backlinks, social signals, and direct traffic all communicate these trust signals. So if one of those high DA publishers mentions your business in their content, there's a good chance it will show up on page 1 for keyword searches that include your brand name.
Some example of high DA sites include:
Third-party review sites (e.g., Yelp, Trustpilot, Glassdoor, etc.)
Social media accounts
News articles
Wikipedia pages
Google Images
YouTube video results
Online directories
These types of websites often rank on the first page in a business's branded searches, so being proactive in monitoring and shaping the narratives about your brand that are communicated across all of them is essential to any reputation management strategy.
Ultimately, your goal should be to improve your own site authority. That way, the content you create can start showing up more often on the first page of the SERPs when people conduct searches with your business's name.
In the meantime though, your marketing or public relations team should do the work to ensure your business is represented well by higher DA websites.
4. Search results can last for years
Many businesses spend a lot of energy and time worrying about the social media posts or comments that mention their brand name. The reality is, though, the impact of negative attention on social media is a bit overstated.
Social media algorithms have strong recency signals, meaning those mentions of your business will likely disappear and fade away after a week or so. Negative social media attention can usually be mitigated by a strong public relations response.
But evergreen content can survive on page 1 of Google for years, and influencing those search results doesn't happen overnight. That's why businesses should be directing more resources and attention to making sure their reputation looks good on page 1 of the SERPs.
No brand can fully control what others choose to say or publish about them online, so the question is, how do you go about making sure your branded search results are positive?
Use the building blocks of SEO to improve branded search results
The good news is, the fundamental building blocks of SEO can be used as reputation management tools. SEO strategies like link building, content marketing, and on-page optimization can all be used to help improve your branded searches.
Here are a few SEO strategies you can use:
Create original content: Any original content your brand publishes can also rank in Google. If there is a search query that is producing negative results for your brand, try to rank on that first page with an original piece of high-quality content
Invest in link building: Improving your site authority will help your existing content rank better and more often for searches with your brand name.
Level up your social media: The highest DA sites out there are social platforms like Facebook and Twitter. Make sure you have a strong and positive social presence so your business profiles rank on Google's first page.
Build links to positive press: You can use link building to elevate existing positive digital locations that you want to see on page 1.
Use public relations tools: Tools like HARO (help a reporter out) can help your business get mentioned in relevant news articles that easily rank at the top of the SERPs.
Guest blogging: Contributing thought leadership and expert commentary to authoritative websites is a great way to help produce more positive branded search results. These sites are often authorities in their industry niches and can easily rank on page 1.

Because SEO agencies are able to create content at scale, working with the experts for your reputation management plan can mean faster, more impactful results. But still, any business or digital marketer can take ownership of their branded search results and reputation management strategy.
Why your business needs an SEO reputation management plan
If you don't pay attention to your branded search results, you may find that the effort you've put into marketing your business goes to waste. Make sure you set a Google Alert with your brand name or the names of any key leaders or stakeholders so you can keep track of how your image is being portrayed across the internet.
Also, start thinking more creatively about how SEO can help shape your brand's online narrative. The reality is no business has a perfect reputation, but how your business looks on the first page of Google is arguably your most important digital asset.